Business Confidential Now
Business Confidential Now is the show that brings you fresh insights, tools, and straight talk to help you manage business issues hiding in plain view that matter to your bottom line.
It's hosted by Hanna Hasl-Kelchner, founder of Business M.O. and the Legal Leverage Academy.
Even if you have one of those fancy MBAs, it's impossible to have all the answers in business.
Hanna knows this as a matter of fact because she HAS one of those fancy MBAs and even taught in a few top tier MBA programs. She's also been a practicing business attorney who has seen first-hand what happens when things go south. That's why she created this podcast.
The show typically runs approximately 25 – 35 minutes and releases a new episode every Thursday.
It's usually an interview show with experts, authors and thought leaders who share their secrets for more success on a wide range of business topics. But, once in a while Hanna will put on her lawyer hat and feature some no-nonsense legal information.
Join Hanna and start listening to Business Confidential Now.
Remember to tell all your business friends about the show and leave a positive comment.
It's available to listen for FREE in any app that supports podcasts. The more you dive into the episodes and follow Business Confidential Now, the more you'll be able to grow and protect your business NOW.
To listen to the show at https://BusinessConfidentialRadio.com or on one of these popular apps https://business-confidential-n.captivate.fm/listen
About Hanna Hasl-Kelchner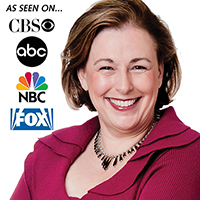 Hanna helps business leaders grow and protect their organizations. She has been a trusted advisor for more than 35 years, helping influential decision makers ranging from start-ups to the S&P 500 to the White House and discovered that what you don't know in business really can hurt you.
Unlike most lawyers, she has both entrepreneurial and corporate experience. Growing up she had a front row seat to her parents American Dream, watching them build a successful business from scratch and later ran her own business before age 30.
She's sat on both sides of the desk and that's why today she loves to bridge the gap between business and law through public speaking, teaching and mentoring through Business M.O., LLC, with M.O.'s Business Confidential Now podcast.
Doing the right things in the right way is not only the right thing to do, it's smart business because you're creating a workplace where employees can bring their best, contribute amazing things and skyrocket your business.
It lets you build a business that's not only profitable; but, one you can be proud to tell your grandkids about some day.
Joining the Business Confidential Now family is easy and lets you have instant access to the latest tactics, strategies and tips.
Follow the show through on favorite podcast app, on Twitter, Facebook, YouTube, and LinkedIn.
Rating and reviewing the show helps us grow our audience and allows us to bring you more of the rich information you need to succeed from our high powered guests.
Download ♥ Join ♥ Listen ♥ Learn ♥ Share ♥ Review ♥ Comment ♥ Enjoy 
This post may contain links to products to products on Amazon.com with which I have an affiliate relationship. I may receive commissions or bonuses from your actions on such links, AT NO ADDITIONAL COST TO YOU.